The Complete Guide to Hotel FF&E Installation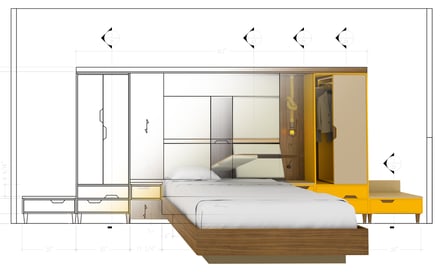 There's nothing more exciting than seeing a hotel project come to life.
Whether it's a complete new build or an update to an existing property, hospitality projects are large undertakings that often require years of hard work, planning, and oversight. There's the conceptualization. Planning. Budgeting. Finding contractors. Revisions. Finalization. Implementation. Navigating the unexpected.
Hotel FF&E (fixtures, furniture, and equipment) installation is almost always a sign that a project is nearing completion. That's no surprise – seeing items like headboards and wardrobes find their place in a guestroom is the vision for a space becoming reality.
Though installation is toward the end of a project's "to-do list," it's not something to leave to chance. Like any other component of a hotel project, FF&E installation requires early consideration, oversight, attention to detail, and skilled execution.
In this guide, we'll dive into everything you need to know about ensuring your hotel FF&E installation gets your project to the finish line:
What is FF&E Installation?
As it sounds, FF&E installation is the process of putting together and placing fixtures, furniture, and equipment (FF&E) at their intended final destinations.
Completing an aesthetically pleasing, ergonomically designed layout for your guests' comfort involves more than placing a bed here and a dresser there. That's why FF&E installation takes careful planning -- it's not just grabbing an Allen wrench or Phillips-head screwdriver and getting to work.
What is FF&E in Hospitality?
A common industry term, FF&E stands for "furniture, fixtures, & equipment" -- basically any accessory that isn't permanently affixed to the hotel structure.

Many components of a hotel's interior design fall under this classification, including:

•Casegoods furniture


•Tables
•Desks
•Shelving
•Window treatments
•

Tech accessories
FF&E represents a major investment by a hotel. Suffice to say, budgeting for FF&E is paramount to keeping a project within an acceptable financial range.
Most hotel FF&E projects involve multiple rooms, room types, and casegood configurations. And that's not to mention placing your FF&E where it makes the most sense in a space and achieves the desired effect coupled with function.
What's more, not just anyone can install your FF&E the right way. Most hospitality FF&E arrives on-site partially disassembled or completely in pieces. Just as when it was being fabricated by a manufacturer and later delivered, FF&E needs to be handled with care during installation. Once together and in place it needs to be secured – that's not to say it's permanently affixed like a sink or vanity countertop, but rather anchored down so it doesn't pose a safety hazard. The last thing any hotel owner wants is a dresser or entertainment stand falling over and injuring a guest.
Proper planning coupled with hiring an experienced installation team whose focus is FF&E is vital to bringing your hotel project to a successful conclusion exactly as you envisioned.

The Do's and Don'ts of FF&E Budgets
Regardless of size or scope, every project's starting point is its budget. The spending plan dictates exactly what you're able to do.
According to Cushman & Wakefield's most recent Hospitality & Gaming Report on Hotel Construction Costs, FF&E is the third-highest expenditure of a hotel project – preceded by construction and planning. And since 2020, hotel FF&E costs have increased, driven largely by the impacts of the COVID-19 pandemic on labor and supply chains.
How much should you budget for FF&E?
At midscale hotels, a complete FF&E package costs on average $12,000 per guest room. Furnishing a guest room at a luxury hotel runs between $80,000-$125,000.
When it comes to FF&E installation, one of the worst things you can do is assume its costs are included in a quote. In a best-case scenario, you'll get lucky and your budget remains intact. If installation isn't included, you'll be scrambling to drum up the funding and find an installer to complete the work. The best advice to avoid being caught off-guard by an unforeseen installation expenditure: ask about your FF&E's installation during initial discussions with a manufacturer.
Accounting for the Unforeseen and FF&E Storage
Two of the biggest rookie mistakes in budgeting for hospitality FF&E is to not have a reserve budget or a line for storage.
1. Reserve Budgets
In the not-too-distant past, the rule of thumb was to set aside around 10% of your total hotel FF&E budget for a reserve. That amount was usually more than enough to cover any unexpected costs, such as price jumps in materials or labor.
But as the COVID-19 pandemic showed, uncertainty drives costs up drastically. Now, it's best practice to create a reserve that's between 15-25% of your FF&E budget.
Regardless of world events, having an FF&E budget reserve is just good business practice. Unforeseen expenses are the last thing anyone wants to deal with, but they are usually part of any project. With an appropriately funded FF&E reserve, you're able to meet unexpected price increases without having to reconfigure your spending plan.
2. FF&E Storage
In a seamless transition, your casegoods are complete, ready to deliver, and the hotel site is ready to receive product.
In reality, that's not always the case -- sometimes projects get delayed or other issues come up.
Regardless of the reason, you might not be ready to receive your new hotel furniture as originally planned. That means your order is likely headed to storage for a while. And if your hotel furniture vendor is unable to hang onto it, your casegoods will end up in storage somewhere -- most likely with a third party.
An often-overlooked element of a hotel project and FF&E (fixtures, furniture, and equipment) budget, third-party storage can significantly impact your bottom line.
Just like with inquiring about installation, the best time to plan for storage and its accompanying expenses is at the beginning of your project. Not only will you avoid a logistical nightmare in finding a temporary home for your order, but you'll also be able to budget accordingly.
Resource: How do you keep your hospitality FF&E protected and in good condition while in storage and beyond? Download our Proper Care & Storage of Hospitality Casegoods to find out!

Choosing Your Hotel FF&E Installer
Think back to the last major purchase your hotel made.
You probably didn't go with the first reasonable offer. Chances are you spent a lot of time doing your homework on the available options and how they aligned with value.
Selecting an FF&E installer is no different.
Outside of handling the job with your internal team, there are three options for professional hotel FF&E installation:
1. The FF&E Manufacturer
No one knows your FF&E casegoods better than its manufacturer.
Though a rarity in FF&E production, some hospitality contract furniture manufacturers offer installation as part of an order package or a separate service.
For a hotelier, this is the most ideal option. Not only does this simplify budgeting (installation is included in an order's final bill), but it also makes the logistics of receiving an order much easier to manage.
Working with your FF&E order from concept to completion, a hospitality furniture company is well aware of your project, its schedule, and any potential impediments. Manufacturing, shipping, and installation all happen as part of one plan to get your order from the shop floor to its final destination.
Our sister company, CFI of NY handles installation of our hospitality FF&E. Learn more about what CFI of NY can do for your project:
2. A Manufacturer's Recommendation
The next best thing to a manufacturer handling installation is installation by a firm they trust.
While this type of hotel furniture installer isn't the same as working directly with your FF&E supplier, there is built-in peace of mind with this option.
A recommended installer already has a stamp of approval from your manufacturer, allowing you to go this route with confidence. What's more, they also have product familiarity leaving little room for any surprises during installation to stall completing the job.


3. An Independent Installer
No different than another service provider brought in on a project, an independent installer is hired strictly to put together and place your order.
Working with an independent installer does require more leg work up front to ensure they're able to handle the job and meet your deadlines. In addition, you'll likely need to talk with several independent installers to find the right one for your project.
Vetting a Hotel FF&E Installer
Not all FF&E installers are the same. Likewise, there's no one-size-fits-all for installation services.
When vetting potential hotel FF&E installers, your checklist of questions should include: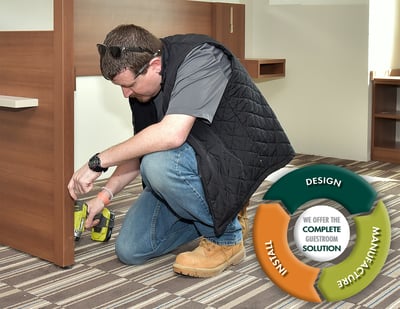 Experience
Involvement
Manufacturing + installation
References
1. Experience
Hotel FF&E installation isn't a job that just anyone can handle, and it certainly shouldn't be done by someone who has only a few jobs under their belt.
The last thing your project needs is an installer's lack of experience creating issues for your FF&E schedule. That costs time and money.
An experienced FF&E installer understands the finer points of putting in hospitality casegoods, from placement to constructing them on-site.
They also won't be the reason for delays in your project and its progress. A seasoned FF&E installer makes their part of the project a headache-free experience, fitting their work into your project schedule and minimizing crossover with other contractors or daily operations.
With the wisdom of experience, a hotel FF&E installer should make one of the final elements of a hotel project the easiest.
2. Involvement
An FF&E installer should be among the core team of people involved in your project that you're in regular contact with. From the day you've committed to an FF&E order, an installer should be working with you to prepare for their upcoming work and troubleshoot any potential issues.
Installers planning to only be there the day they're needed are a red flag. A lack of familiarity with your project, FF&E, and hotel almost guarantees issues on the day of installation.
3. Manufacturing + Installation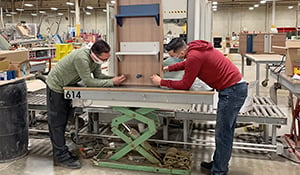 One of the easiest ways to streamline your hospitality FF&E project is by consolidating its production and installation to a single source.
But be warned: a hospitality FF&E manufacturer that also handles installation is like the Loch Ness Monster – an entity sought after by many, but rarely seen. Still, it's worth seeking out the manufacturer/installer combo – such a partnership will bring a new level of efficiency and expertise to a project.
Involved from the beginning of your FF&E's procurement, a manufacturer/installer works with you to not only design hotel casegoods that meet your vision (and stay within your budget), but also ensure your order makes it to its final destination without issue.
What's more, you'll get expert assistance for your vision each step of the way, complete with honest feedback on design specs and communicating in real-time as your order moves through factory production.
You and other project stakeholders will have an accurate view of the end game -- and an active role in the production of a quality product for your valued guests. In turn, that long-lasting quality will equal fewer unexpected headaches and long-term maintenance costs.
4. References
There is no greater indicator about the quality of an FF&E installer's work than what past clients have to say.
While it goes without saying, references are an absolute must when evaluating a potential installer.

The Two #1 Things for Efficient Hotel FF&E Installation
Whether you're building a new facility or making some overdue updates to your hotel, a survey and site visit go a long way to ensure smooth and efficient delivery and installation.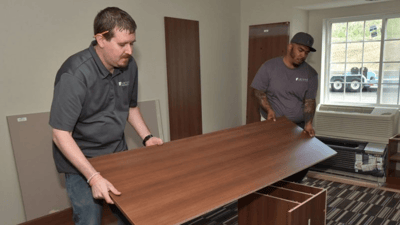 The hotel furniture surveying process generally begins with taking a look at your building's blueprints. With a detailed look at the skeleton of your building, your installer is able to account for both seen and unseen components, such as:
Blocking
Electrical
HVAC
Plumbing
Safety features (for both guests and staff)
ADA compliance (last but certainly not least)
A scouting mission of sorts, a site visit made well before your casegoods are delivered gives your FF&E installer a lay of the land. With a firsthand look at your property, they're able to figure out exactly how to get your order to where it needs to be.
During a site visit, your hotel furniture installer should note:
General building layout
Door and hallway dimensions
Stairwell and elevator locations
Room dimensions & layout
Staging & storage areas
Access points to the property
Any potential hazards/impediments
With both a survey and site visits, you and your installer won't need to worry about components of your order getting stuck in a hallway or finding out the hard way that your headboards block access to an electrical outlet. Installation is set to run like a well-oiled machine.

Other Key Considerations for Planning FF&E Installation
With a site visit completed, your installer can turn to other critical components of planning for installation, including:
Logistics – Where will your order be located and how will components be moved? Is there a specific path crews should follow? Will your facility be open for business or will other service providers be on-site, too?
Assembly – Where will your FF&E be installed? What resources are needed (e.g. access to power outlets)?
Haul away – Do you have existing FF&E that needs to be removed? Who's handling that and where does it all go?
Cleanup – How will any packaging material be disposed of? What condition do you expect the installation site(s) to be left in?
---
Streamlining Your FF&E Installation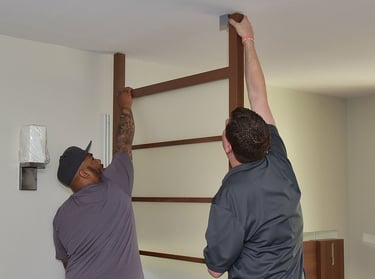 FF&E installation day is one of the most exciting parts of your project – it's when the rubber hits the road with your vision taking shape.
While installation is a time-consuming process, there are things you can do to make your installer's job a breeze – saving you time and money.
How?
These four ways:
Communicate
Get prototypes
Agree on schedule
Create a day-of attack plan


1. Communicate
The most important thing to do from the beginning of your project is to establish open lines of communication with your FF&E installer.
Nothing sets the stage for easily preventable issues later on than a lapse in communication from the onset of a partnership. And continued communication breakdowns only set the stage for or prolong issues unnecessarily.
Communication isn't just about the ability to speak to one another. It's also about making sure you understand each other. From the onset of working together, both you and your FF&E provider should be in sync on everything with your project, from expectations to potential impediments.
Remember: communication is a two-way street. If your hotel casegood installer leaves you feeling left in the dark on where things stand, reach out. The same goes for your casegoods provider with you. In other words, neither of you should feel out of the loop.
It's good to have a designated point-of-contact to interface directly with your FF&E installer. Should anything come up, there's no wasted time connecting with the right person.


2. Get Prototypes
After a site survey is completed, ask your FF&E provider for prototypes of your order.
With a tangible, real-world example of your FF&E, you're able to do a test run with your installer of receiving the product. It's much easier to find out there's an issue with a single casegood rather than having a truckload of items delivered that can't fit through your front door.
In addition, a prototype is an opportunity to see that your hotel casegoods are exactly what you want before full-scale production begins. You may discover a small design element that needs tweaking or that the product just isn't a good fit for your hotel.

3. Agree on a Schedule
With a set schedule, your FF&E arrives and is installed when it should be, causing little interruption to the rest of your project or operation.
For the FF&E installer, a clear, defined schedule streamlines arranging:
Deliveries
The amount of manpower needed for installation
Tools and other resources
When creating your FF&E schedule, be as honest and realistic as possible. An overly ambitious timeframe -- or one that doesn't match progress -- adds needless chaos or costly delays to your project.
An experienced FF&E installer is a great resource for making sure your schedule is feasible. Having completed hotel casegood deliveries and installations at other facilities, they'll know what to expect and how to navigate the unexpected.
4. Have a Day-of Attack Plan
Taking an even more refined approach to creating a schedule, having an itinerary of the day(s) when your FF&E finally arrives on-site helps the installation process move along.
A point-by-point schedule keeps everyone on the same page as your FF&E reaches its final destination. Plus it reduces needless disruptions to the work at hand -- you'll minimize interferences.
Resource: Installation is only one part of a major hotel project that needs management. Our Custom Hospitality Furniture Production Timeline for Scheduling, Planning, and Tracking details everything else you should expect. Download your copy today!
The Impacts of a Well-Executed FF&E Installation Strategy
A well-executed strategy for FF&E installation goes beyond seeing components of your order exactly where they need to be. The benefits of proper planning and implementation pay both short- and long-term dividends.
Effective planning helps you preserve your project's budget. You won't waste precious time and money navigating problems on the fly, nor will you need to explain why your project has gone over budget. FF&E installation shouldn't be a cost driver – it should be a non-eventful conclusion.
Working closely with a mature FF&E installer from the beginning of a project means less headache. Their experience is invaluable, as is their partnership. They'll help you find efficiencies or identify potential issues before they become impediments. On installation day (or week), their presence won't impact other elements of your project.
With everything in its right place, your FF&E installation should provide for an enhanced guest experience, leaving a good impression that encourages repeat stays.
MAximize Your Hotel Casegoods Investment
At Artone, we design and engineer our hotel casegoods with the end in mind -- and yes, that includes installation. Learn more about our value engineering process and how it benefits your project with a consultation: